Web Design For Local Businesses
Local Furniture Store in Ashtabula Ohio Dominating in Local SEO
Best Website Builder Group has provided the Furniture Towne furniture store in Ashtabula, Ohio with a bespoke web design solution that is tailored to the specific needs of their business. The website was designed from the ground up with local customers in mind, including features like interactive store locators and customized product selection tools. The website also allows customers to easily search for furniture items by selecting specific criteria such as style, material, price range and more. Hamilton Digital Solutions' focus on creating a fully optimized web experience for Furniture Towne has led to numerous tangible benefits for the store.
Overall, Best Website Builder Group web design for Furniture Towne has been extremely successful in helping them reach out to local customers and drive more sales for their business. By providing a great user experience that allows potential buyers to easily find what they are looking for without any hassle or confusion, Hamilton Digital Solutions has helped this furniture store succeed in its mission of providing quality furniture at competitive prices.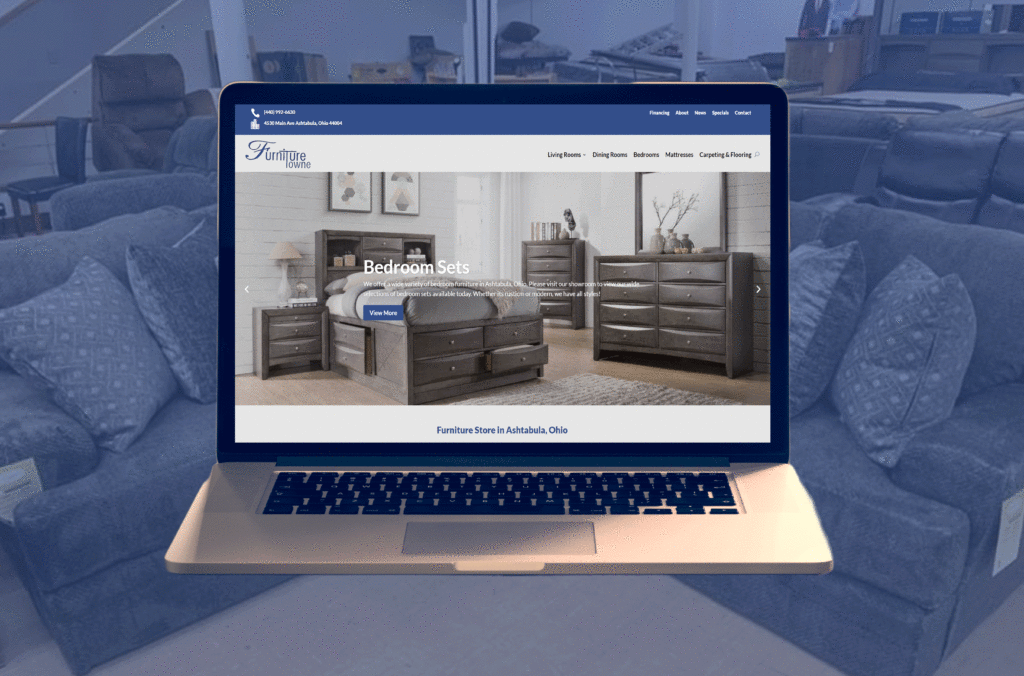 Website Design For Local Furniture Store
Best Website Builder Group was selected to design the website for Furniture Towne, a furniture store based in Ashtabula, Ohio. With their experienced web design team and proven SEO expertise, Best Website Builder Group was able to create an engaging website that effectively showcased Furniture Towne's product selection. The new site included easy-to-navigate menus and featured high-quality images of Furniture Towne's products. This improved user experience led to increased visitor engagement and conversions.
In addition to the website design, Best Website Builder Group also implemented effective search engine optimization (SEO) techniques. This allowed Furniture Towne to gain more visibility in local searches relevant to their business, such as "furniture store near me." The combination of effective web design and SEO resulted in higher search engine rankings, leading to an increase in organic traffic from potential customers in the area.
Since the launch of Furniture Towne's new website designed by Best Website Builder Group, the store has seen a significant boost in foot traffic coming into the store from new and returning customers. Ultimately, Best Website Builder Group web design strategies and SEO implementation have resulted in tangible results for Furniture Towne and established them as a leader in web presence within Ashtabula's furniture retail industry.
Local SEO Maximized Website
Best Website Builder Group created a tailored web design for Furniture Towne in Ashtabula, Ohio to optimize the store's online presence and local SEO. By creating keyword-focused content that was both engaging and informative, Best Website Builder Group was able to help Furniture Towne reach a wider audience and increase its visibility among potential customers.
The main goal of the website design was to showcase Furniture Towne's products prominently, while also emphasizing their services such as custom furniture orders and home delivery. To ensure that customers in the local area could find the store quickly and easily, Best Website Builder Group implemented targeted SEO strategies designed to index the website higher on search engine results page for local searches relevant to furniture stores.
In addition, the team optimized Furniture Towne's website with schema markup and other technical elements, such as sitemaps and structured data tags, which helped search engines like Google understand exactly what kind of business they were dealing with. This allowed users in Ashtabula looking for furniture stores to see Furniture Towne at or near the top of their search results.
By combining sleek web design with keyword-rich content and local SEO techniques, Best Website Builder Group was able to give Furniture Towne a major boost in terms of online visibility and customer reach. Thanks to this collaboration, sales at Furniture Towne have increased significantly since launch day.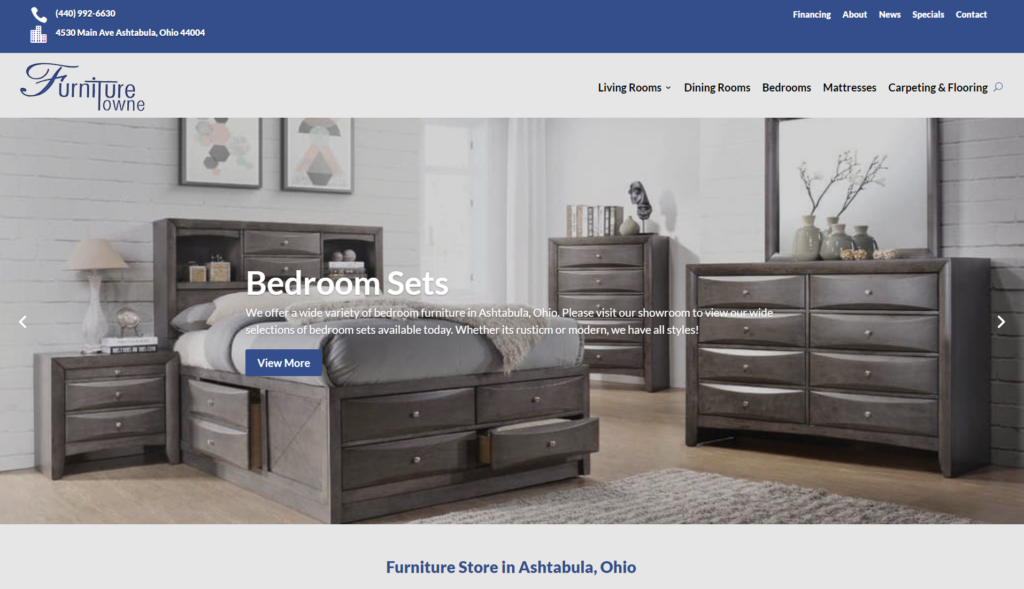 Local Web Designers and SEO Experts
Go ahead and "google" or "bing search", "furniture store in ashtabula ohio" and related keyphrases in their industry and you will not only find Furniture Towne in the top results, but several times on the 1st page. You go to page 2, they are there. Page 3, they are there. They have dominated the Ashtabula County area since launch in 2021. We have continued the maintenance of this growth and we have seen so much local traffic in the growing Ashtabula County area in Ohio. 
Best Website Builder Group focuses on websites that drives results and with SEO-First approach to our websites, we have seen such a success for this client. 
Stand Out In Your Local Market