HVAC Web Design Driven For Results
HVAC Web Design Company Launches Successful HVAC Website
Best Website Builder Group hvac web design for Quick Response Service Company has resulted in a significant increase in leads and inquiries. By leveraging the latest technologies, our team was able to create a website that is not only visually appealing but also packed with powerful features. From intuitive navigation to eye-catching graphics and content that is both informative and engaging, this website has been designed to drive quality leads for Quick Response Service Company.
The website offers an interactive user experience that is both comprehensive and easy to use. It delivers comprehensive product information, easy access to contact forms, and the ability to instantly schedule consultations or book services online. The website also provides detailed descriptions of each of the services offered by Quick Response Service Company along with reviews from previous customers so potential customers can make informed decisions. As an additional benefit, the website includes a blog section where customers can stay up-to-date on the latest news related to HVAC technology as well as tips on how they can keep their systems running optimally.
By leveraging our expertise in web design and development, Best Website Builder Group has been able to create a comprehensive HVAC web design solution that is driving continuous leads for Quick Response Service Company. With its intuitive user experience, powerful features, and high-quality content, this website has become an invaluable asset for Quick Response Service Company in generating more leads and inquiries than ever before.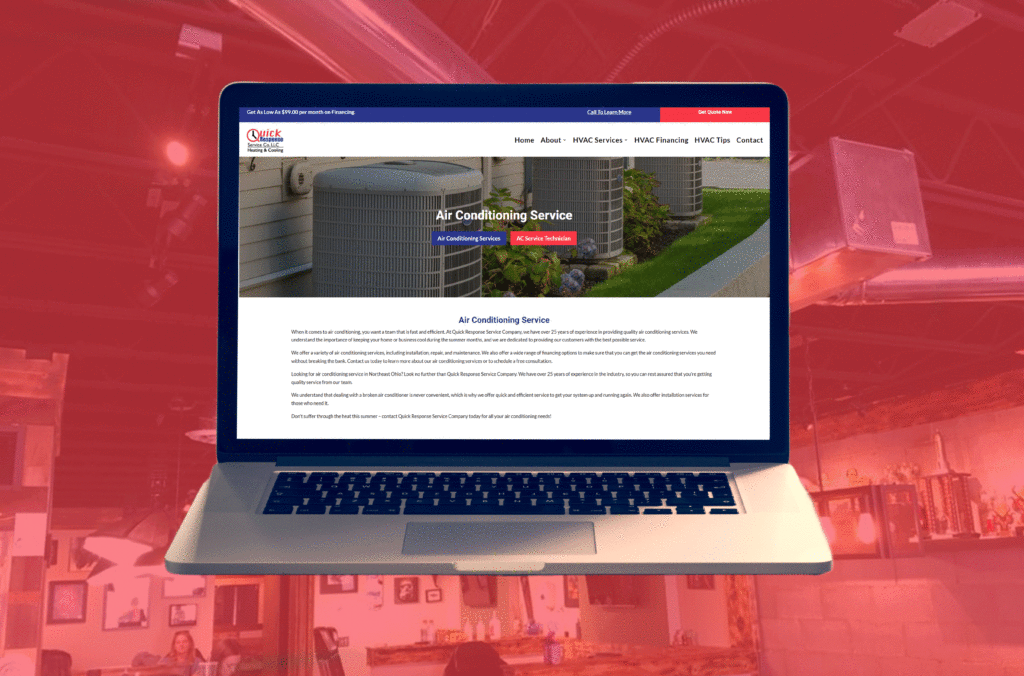 This website was pretty difficult in respect to making a url structure to drive more keyword acquisition opportunities in this tough industry. It is massively important to know your industry when looking into making a website that drives results. The templates of every page is done either the same or different depending on the service and also – the time of year! Our content team delivered a massive overhaul of research in respect to keywords and how we can rank higher than local competition faster. 
The navigation is simple, and you can actually call them right away if you have a problem and are comforted that they offer financing in their services making it easier for hard working families. The friendly color scheme and structure really is to get customers to call them so they can answer the lead and get a date scheduled for service.
The SEO structure and content on this hvac seo driven website has given us over 100 keywords fast on hvac financing and hvac services in Cleveland. Over time after launch, we have seen an increase in overall sales for our client. With Meta Page management as well packaged on with this website, the SEO and Ads we ran for this customer has given them way more leads they had in 5 years.
The blog is the biggest piece, writing information for customers of Quick Response that gets answers out there and communicated with them. It continuously grows a following and gives more consumer trust from their customers. Our content management team has been fixated on building a following for over a year and it has gotten them a 10% increase in sales and it is continuously moving up.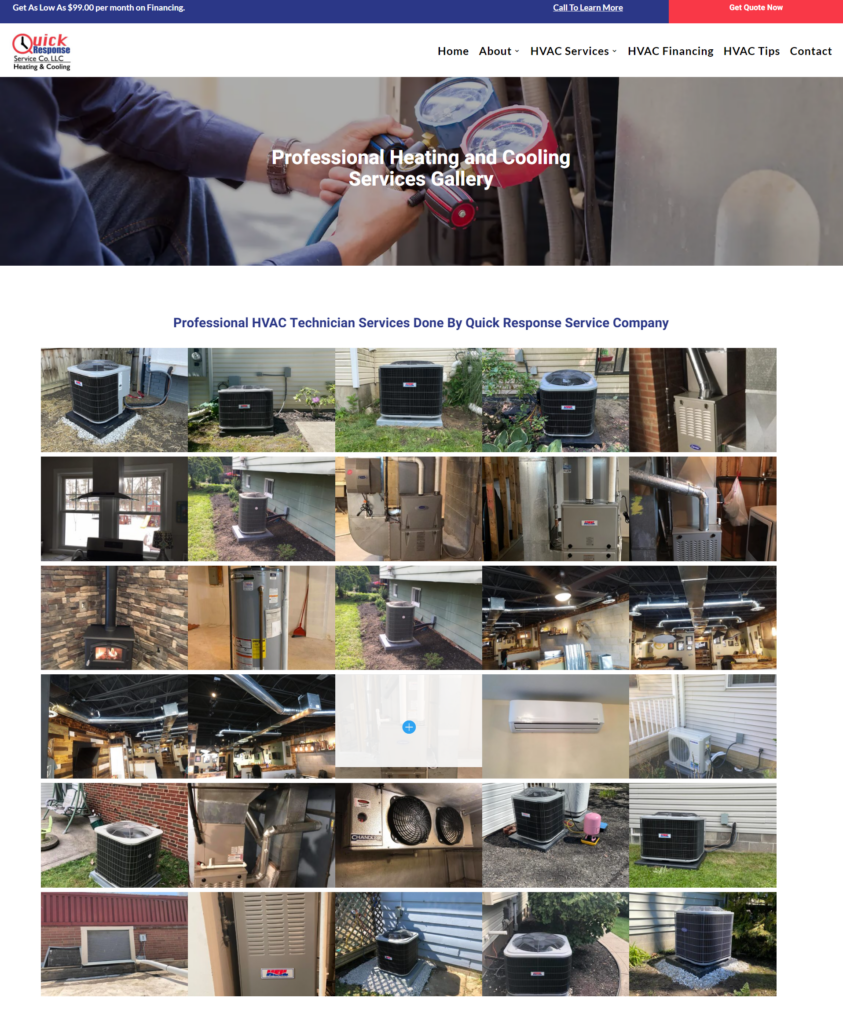 How To Get More Sales At My HVAC Company
When you are wondering to get more sales at your hvac company, you need to ask yourself how bad do you really want it? Do you want a one-off website that hardly ranks for customers, or do you want a website that drives sales and gets results? It is clear and simple and we take pride about the growth of Quick Response Service Company after launching this WordPress website design. 
HVAC Websites Built To Last